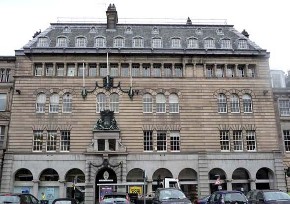 On Friday 27th September 2013, Gary McLelland, Colin Emerson and Norman Bonney (Chair, Vice-chair and Honorary President of Edinburgh Secular Society) met with representatives of the Church of Scotland at their offices in George St, Edinburgh. Present from the Kirk were Ewan Aitken (Secretary of Church & Society Council), Sally Fulton-Foster (Convener of Church & Society Council) and Sandy Fraser (Convener of Education Committee).
The meeting was good spirited, however Edinburgh Secular Society representatives held firm to their position that Religious Observance is not appropriate in Scottish schools.
Edinburgh Secular Society also took this opportunity to praise the Church of Scotland for all of the social and community services it provides, as well as it's relatively open and democratic management structure.
Edinburgh Secular Society raised specific concerns about the appropriateness of the Church of Scotland continuing to nominate un-elected 'Religious Representatives' to Local Authority Education Committees.  This will be a subject of further discussions between the Kirk and Edinburgh Secular Society.